Conservation with Forestry (with placement year)
Forests are the most biodiverse of all terrestrial ecosystems and contain the vast majority of the world's terrestrial species. This degree provides an understanding of this biodiversity, the ways in which it is influenced by people, and the role that forests can play in reducing the impacts of human activities, including climate change. The degree focuses on the principles of biological conservation, forest ecology and forest ecosystem function, the practice of conservation, and the ways in which forests can be managed to meet conservation objectives. There are opportunities to study abroad in the second year and to spend up to 12 months working for a conservation or forestry organisation.
This course is accredited by the Institute of Chartered Foresters and gives partial fulfilment of Professional Membership Entry.
Course leaflet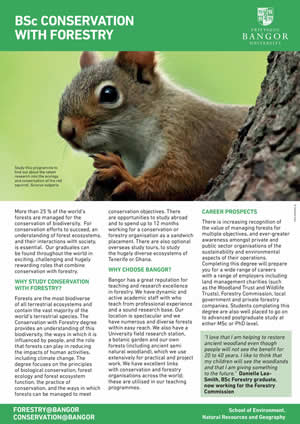 Instruction Language
English / Welsh
Assessment Language
English
Commitment Description
Full time
Duration Description
Starts: 2015
Support available from the Coleg Cymraeg
25%

of the course available in the medium of Welsh
The Coleg plans and supports the provision of Welsh medium higher education on a strategic basis across all the universities in Wales. By working with the universities, the Coleg enables them to secure and develop more opportunities for students studying through the medium of Welsh. In particular, the Coleg sponsors Welsh medium lecturing posts, supports projects to create new resources, and offers scholarships to undergraduate and postgraduate students to study through the medium of Welsh. More information on the Coleg Cymraeg Cenedlaethol's work can be found on the website www.colegcymraeg.ac.uk