Applied Terrestrial and Marine Ecology (with placement year)
This course will teach you how to apply ecological sciences to the real-world needs of sustainable management and natural resource conservation across terrestrial and marine ecosystems. Current thinking in environmental management recognises the need for holistic practices which acknowledge the interrelatedness of the terrestrial and aquatic environments. As well as studying fundamental ecology, you will develop skills that allow you to assess the impact of policy decisions on management. You will be well prepared for the future job market as public and private sector organisations are increasingly paying attention to the sustainability and environmental impact of their operations.
This degree is professionaly accredited by the Institution of Environmental Sciences.
Course leaflet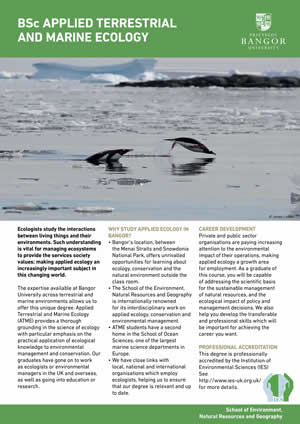 Instruction Language
English / Welsh
Assessment Language
English
Commitment Description
Full time
Duration Description
Starts: 2015
Support available from the Coleg Cymraeg
25%

of the course available in the medium of Welsh
The Coleg plans and supports the provision of Welsh medium higher education on a strategic basis across all the universities in Wales. By working with the universities, the Coleg enables them to secure and develop more opportunities for students studying through the medium of Welsh. In particular, the Coleg sponsors Welsh medium lecturing posts, supports projects to create new resources, and offers scholarships to undergraduate and postgraduate students to study through the medium of Welsh. More information on the Coleg Cymraeg Cenedlaethol's work can be found on the website www.colegcymraeg.ac.uk